Ongoing Exhibitions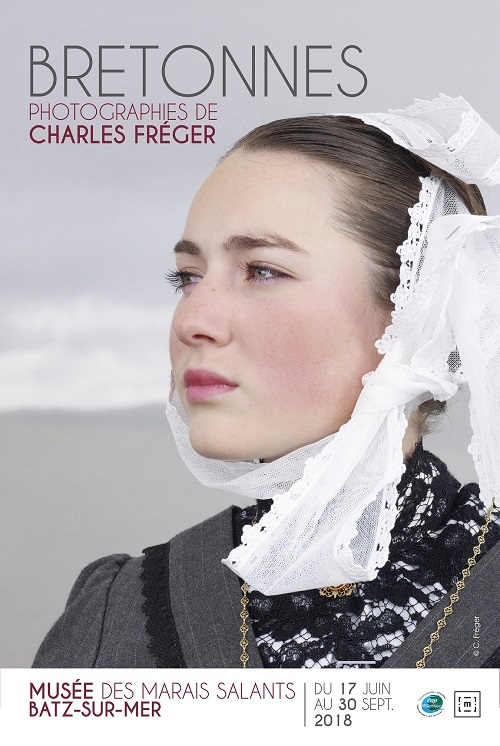 17 juin 2018 - 30 septembre 2018
Musée des Marais salants
Place Adèle Pichon - 44740 Batz-sur-Mer France
Le Musée des marais salants vous convie à voir ou revoir Bretonnes, exposition photographique de l'artiste Charles Fréger, fruit d'une résidence au Centre d'art GwinZegal de Guingamp. Cette présentation de 43 portraits accorde une place de choix à la série guérandaise des métayères et paludières.
Exclusivement féminine, Bretonnes se découvre comme un inventaire poétique, une enquête sensible conduite auprès de tous les cercles celtiques de Bretagne. L'artiste explore avec délicatesse et élégance l'univers du costume traditionnel breton à travers le prisme d'un des éléments iconographique et identitaire les plus forts : la coiffe.
Loin de constituer une évocation nostalgique de traditions pluriséculaires, la photographie de Charles Fréger témoigne d'une culture régionale contemporaine et vivante. Mieux, plaçant la femme bretonne en figure de proue de ses images, l'artiste suggère la fierté qu'elle a de son histoire pour se tourner résolument vers l'avenir.
News
02 février 2015
Waiting for the spring! Good time to introduce the « Bretonnes » series. The book will come out in May with Thames & Hudson for its English version (Titled: Portraits in lace: Breton women) and in French with Actes Sud. Four shows will start in June in Bretagne, with the Musée des Champs Libres in Rennes, the photographic center GwinZegal in Guingamp, the Musée Bigouden in Pont l'Abbé and the Musée d'art et d'histoire de Saint-Brieuc. The series will take place in the four very different contexts of these museums where anthropology, ethnography, history, fashion and photography will connect together around the images. More soon!
31 décembre 2014
How busy 2014 was!
In 2015, will come out the « BRETONNES » book with Actes Sud in French, and Thames & Hudson in English (« Portraits in Lace, Breton women »), simultaneously with the four Bretonnes shows in Bretagne. This series provides a different way to deal with the background and the historic iconography attached to the subject. « Bretonnes » deals with folklorism in this part of France (which is very much alive), and on a broader perspective is focused on the iconic representation of women in the early 20th century. About the other gender, WILDER MANN will be still shown in Italy and France, including a selection of new pictures made this year in England, Ireland and Italy.
And I'm going on with two photographic series in the East (Japan) and in the West (more soon) where Wildness and theatricality still hold a big part in the stories.
New video