Ongoing Exhibitions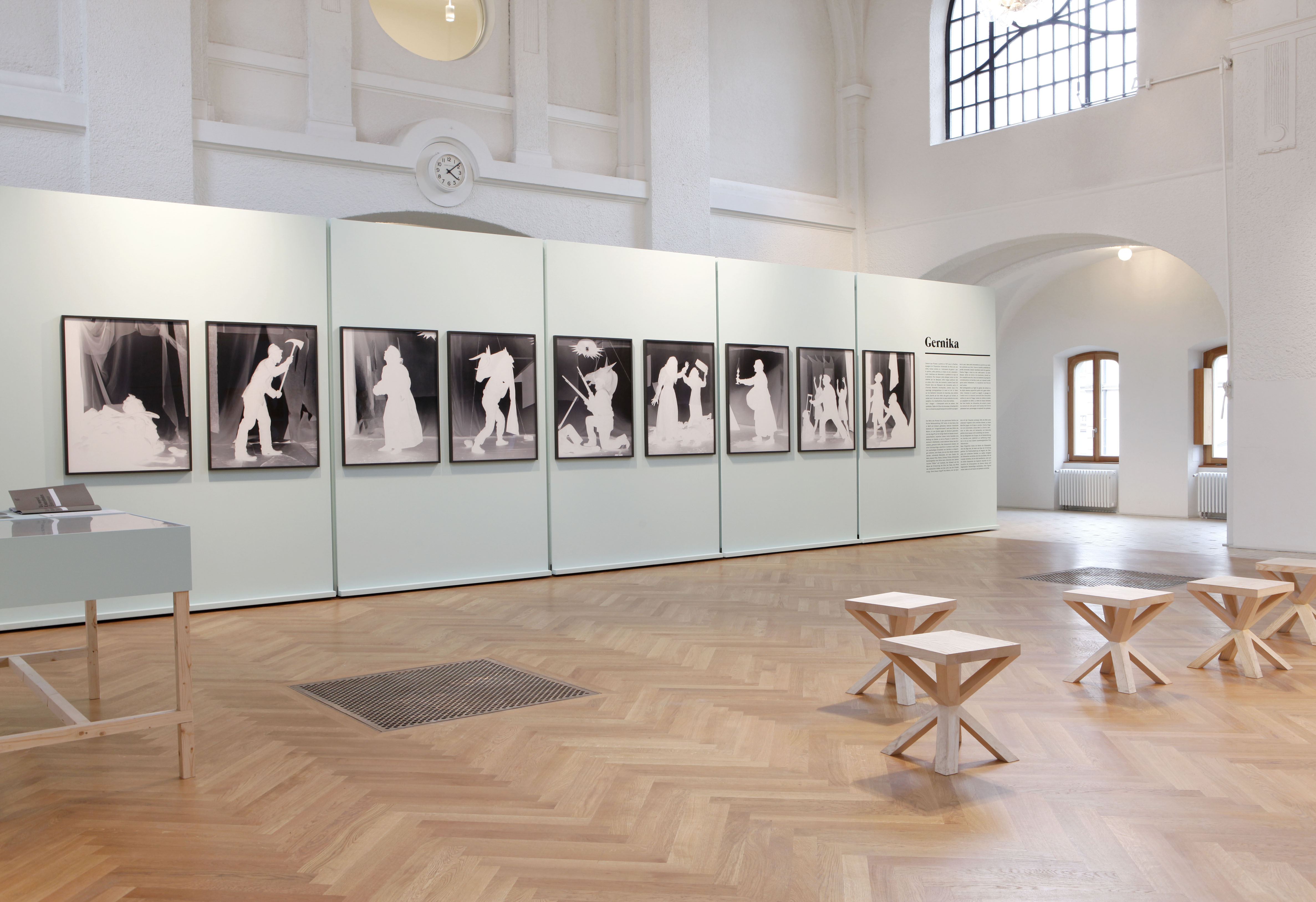 04 March 2017 - 22 May 2017
musée unterlinden
1 Rue des Unterlinden - 68000 Colmar France
L'exposition Charles Fréger Gernika / La Suite Basque sera présentée dans l'espace de la Piscine du 4 mars au 22 mai.
« Gernika est une ville, la capitale symbolique des Basques. Guernica est un tableau, la grande fresque de Picasso. Le 26 avril 1937, la légion Condor envoyée par Hitler en soutien à Franco bombarde la ville. Picasso peint sa toile sous le choc, en réponse à une commande du gouvernement espagnol républicain. » (Marie Darieussecq)
Le point de départ de ce projet est une invitation par la structure d'art contemporain COOP du photographe Charles Fréger en résidence de création au Pays Basque, en 2015. Il a ainsi exploré le patrimoine immatériel basque pendant un an. Avec les membres du groupe de commémoration Gernika-Lumo, qui rejouent année après année l'événement, le photographe a ainsi reconstruit une frise de neuf scènes évoquant les figures du tableau de Picasso. L'exposition est née de cette recherche.
Le Musée Unterlinden qui expose l'un des trois exemplaires de la tapisserie Guernica, dont le carton a été réalisé en 1955 par Jacqueline La Baume Dürrbach à la demande de Picasso, accueille ainsi pour l'anniversaire du bombardement de Guernica cet ensemble de photographies de Charles Fréger.
News
19 January 2017
The new series "L'épopée de Jeanne d'Arc" will be at the Musée des beaux-arts de Rouen from the 19th of january to the 19th of february
This "silhouettes" series directly connects with "La suite basque" (The exhibition is still at the Musée Basque et de l'histoire de Bayonne – Baionako Euskal Museoa until the 5th of february) and once again the semiologic questions around the historical representations in our collective educations.
While representing each stereotype and cliché about the story of Jeanne d'Arc, this photographic shows the layers of the representation of this french historical icon thru its various silhouettes.
You can see the whole series on:
This series has been made possible with the help of Olivier Bériot (cinema costume maker), Laurent Dombrowicz (Stylist), Fred Duval (script writer), Christian Attuly (Hair) with the collaboration of the Théâtre des Arts de Rouen, La Chevalerie de La Breteque, les ateliers caraco, Laurent Tard et le Grand Parc du Puy du fou, Christophe Maratier et Maratier Armurier, Paula Cornejo et Straseria Cornejo, Mairie de Rouen, Lycée Jeanne d'Arc, Christiane Delacroix, Etienne David et Le ventre de l'automate, Sophie Haise (Le garage) and Martine Sadion du Musée de l'image à Epinal, Métropole Rouen Normandie
19 November 2016
"La suite basque" is now taking place in the historical town of Bayonne. Can I say that it's probably my most experimental series which came same time with YOKAINOSHIMA and right after BRETONNES. Without the BRETONNES series, I would have never walked in this direction. It's like if LA SUITE BASQUE was still made of the silhouettes of WILDER MANN, with its landscapes, but this time, the abstraction is holding a key on this work. There will be another silhouettes series exhibited soon, in Rouen, titled "L'épopée de Jeanne". More soon.
This project following the invitation of Association COOP contains six photographic sequences titled: "Ainarak/Exiliados, Sorginak, Gernika, Irudi, La porte du Milieu".
Texts by Marie Darrieussecq and introduction by Martine Sadion.
#lasuitebasque, ~#associationcoop, #charlesfreger, #euskalmuseoa
New video