Ongoing Exhibitions
01 September 2017 - 18 March 2018
Wereld Museum
Willemskade 25 - 3016 DM Rotterdam Netherlands
On 1 September 2017 the exhibition POWERMASK, curated by Walter van Beirendonck, opens at the Wereldmuseum in Rotterdam. The Wereldmuseum is giving the Antwerp fashion designer a free hand this autumn to present his own unique, multi-faceted vision of the phenomenon of masks.
Cheerful and idiosyncratic
Van Beirendonck selected over 125 masks from the Wereldmuseum's large collection, to which he added masked costumes and fashion silhouettes. The main components of the diverse galleries are exhibits of photography and fine art. The design is colourful, cheerful and idiosyncratic – like Van Beirendonck's fashions. The walls are taken up by installations by the contemporary artists Brian Kenny (b. 1982), Coco Fronsac (b. 1962), and Charles Fréger (b. 1975), which are combined with a variety of masks from Africa, Oceania, Europe, and America. In addition, historical and present-day film material gives a lively picture of the ways in which masks were originally worn by men and women and of their role in rituals.
Publication
The exhibition is accompanied by the richly-illustrated book POWERMASK: The Power of Masks', Dutch edition ISBN 9789401443180 and English edition ISBN 9798401442954; Lannoo Publishers (on sale for €39.99 at the museum shop) .

photo: Aad Hoogendoorn
News
12 January 2018
This year is starting with some good news. YOKAINOSHIMA will be exhibited at the great Musée des Confluences in Lyon, France from June 2018 to August 2019. Yes, 14 months! Which will give you the time to visit this show where the photographs will meet the beautiful collections of the museum in a 700 m2 space all dedicated to the Japanese spirits. Still some month of work before the opening, but that's a real chance to challenge the series and try to present it in another scenography. The series will be also displayed in Caen, at the Arthoteque, and the Musée de la Castre in Cannes. Same time, we're now working on the next book, which will be the result of a four years research which started in New Orleans in 2014 and will finish this year in Central America. More about this very soon.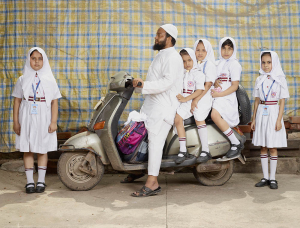 31 August 2017
In Saint-Nazaire, Pays De La Loire, France, at the Galerie des Franciscains, you can visit the "VOYAGE ORDINAIRE" exhibition with the work of Ambroise Tézenas, Jérôme Blin, Denis Dailleux and myself. The show is organized by l'Art à l'ouest, in partnership with Abri Service and the city council of Saint Nazaire.
I'm showing the short "SCHOOL CHALO" (Let's go to school) series, mainly produced in the very crowded streets of Chandni Chook Bazaar, New Delhi.
New video