Ongoing Exhibitions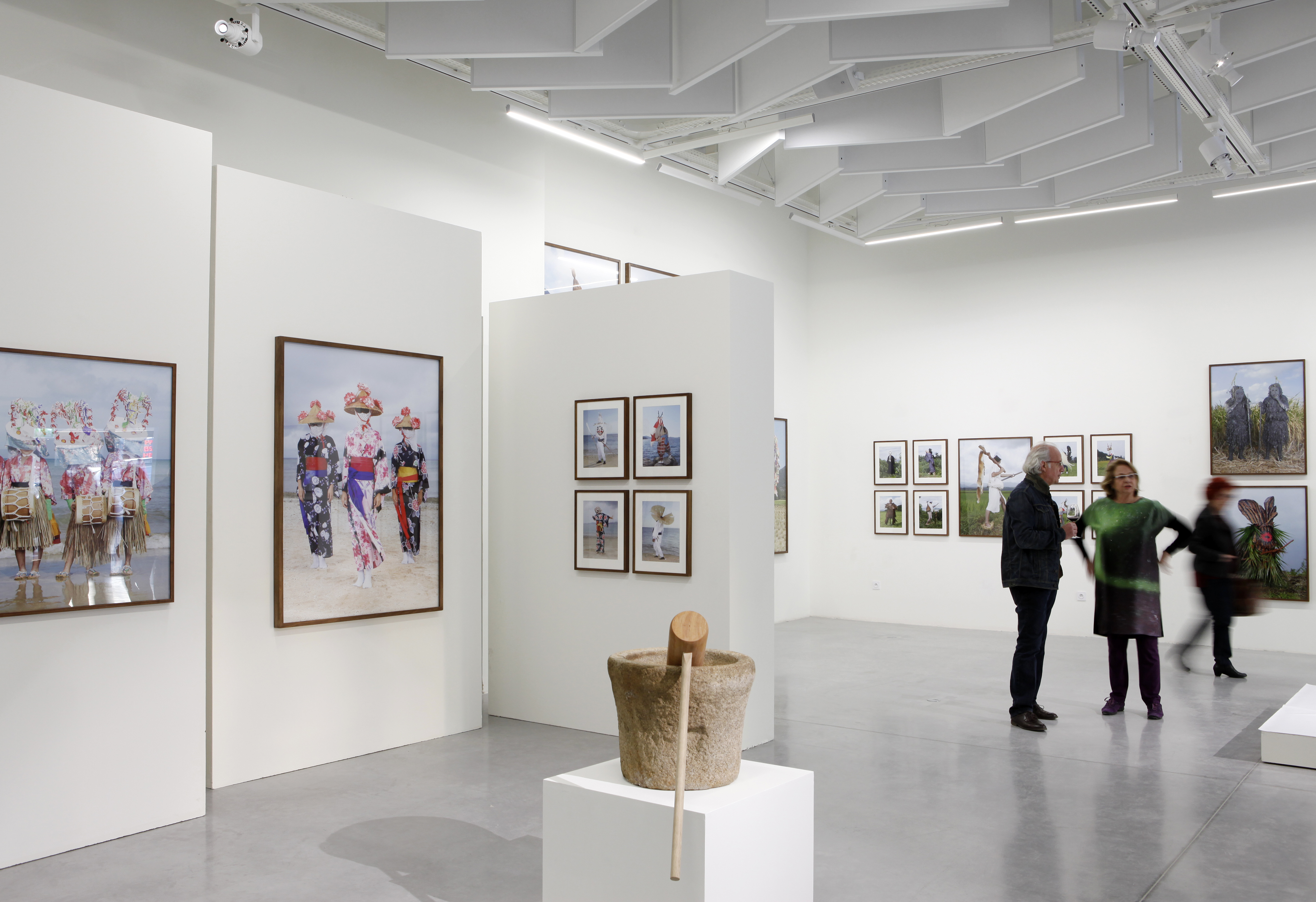 09 March 2017 - 27 May 2017
Le parvis
Parvis - Espace Culturel Avenue Louis Sallenave C.C. Leclerc Tempo - Pau France
En 2013, son tour d'Europe des mascarades hivernales (Wilder Mann) tout juste achevé, Charles Fréger entreprend une campagne photographique explorant les figures masquées rituelles du Japon.
S'il connaissait déjà le pays pour avoir notamment photographié ses lutteurs de sumo (Rikishi, 2002-2003), il ignorait tout de son monde rural. C'est là le sujet de Yokainoshima : par l'inventaire de ces figures masquées, peindre le visage des campagnes japonaises, des traditions qui rythment la vie des habitants et de la terre qu'ils foulent et travaillent.
Au cours de ses cinq voyages, le photographe parcourt de nombreuses régions, tant dans les terres que dans les îles, et fait l'expérience du relief si particulier du Japon, de son étendue et des phénomènes naturels qui le secouent à échéance régulière. Cette exploration extensive de l'archipel lui permet d'appréhender de manière sensible la raison de cette relation empathique des Japonais à leur environnement et leur extrême conscience de la vitalité de la nature.
Yokai, oni, tengu et kappa, que l'on pourrait définir comme spectres, monstres, ogres et farfadets, sont autant d'incarnations de ces figures rituelles imaginées par l'homme et incarnées lors de festivals et cérémonies pour tenter d'apprivoiser les éléments et de donner sens aux évènements naturels.
Cette série photographique présente au regard et à la connaissance une variété de formes existantes sur le territoire japonais, remplissant là sans conteste un objectif documentaire. Pourtant, Charles Fréger ne recherche pas plus le réalisme des situations qu'il ne vise à l'exhaustivité. Le portrait réalisé de son sujet est évidemment partiel et partial. Hérons, cerfs, ogres, démons et autres figures d'un bestiaire nippon sont présentes hors des festivités, évoluant dans les rizières, les champs ou les flots.
News
19 January 2017
The new series "L'épopée de Jeanne d'Arc" will be at the Musée des beaux-arts de Rouen from the 19th of january to the 19th of february
This "silhouettes" series directly connects with "La suite basque" (The exhibition is still at the Musée Basque et de l'histoire de Bayonne – Baionako Euskal Museoa until the 5th of february) and once again the semiologic questions around the historical representations in our collective educations.
While representing each stereotype and cliché about the story of Jeanne d'Arc, this photographic shows the layers of the representation of this french historical icon thru its various silhouettes.
You can see the whole series on:
This series has been made possible with the help of Olivier Bériot (cinema costume maker), Laurent Dombrowicz (Stylist), Fred Duval (script writer), Christian Attuly (Hair) with the collaboration of the Théâtre des Arts de Rouen, La Chevalerie de La Breteque, les ateliers caraco, Laurent Tard et le Grand Parc du Puy du fou, Christophe Maratier et Maratier Armurier, Paula Cornejo et Straseria Cornejo, Mairie de Rouen, Lycée Jeanne d'Arc, Christiane Delacroix, Etienne David et Le ventre de l'automate, Sophie Haise (Le garage) and Martine Sadion du Musée de l'image à Epinal, Métropole Rouen Normandie
19 November 2016
"La suite basque" is now taking place in the historical town of Bayonne. Can I say that it's probably my most experimental series which came same time with YOKAINOSHIMA and right after BRETONNES. Without the BRETONNES series, I would have never walked in this direction. It's like if LA SUITE BASQUE was still made of the silhouettes of WILDER MANN, with its landscapes, but this time, the abstraction is holding a key on this work. There will be another silhouettes series exhibited soon, in Rouen, titled "L'épopée de Jeanne". More soon.
This project following the invitation of Association COOP contains six photographic sequences titled: "Ainarak/Exiliados, Sorginak, Gernika, Irudi, La porte du Milieu".
Texts by Marie Darrieussecq and introduction by Martine Sadion.
#lasuitebasque, ~#associationcoop, #charlesfreger, #euskalmuseoa
New video