Ongoing Exhibitions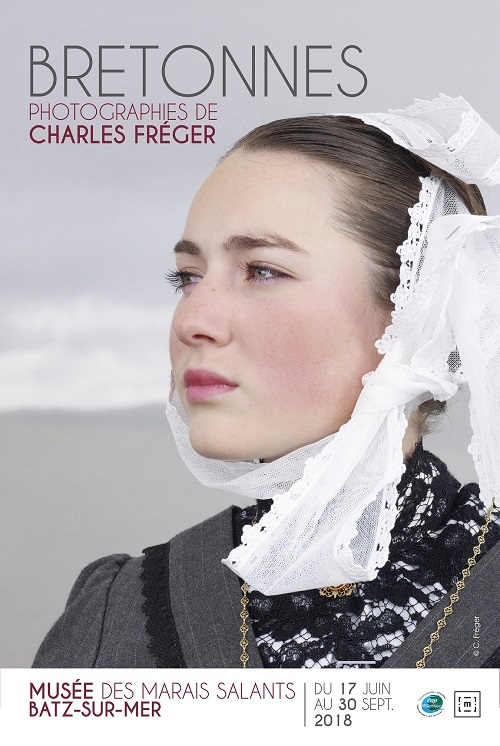 17 June 2018 - 30 September 2018
Musée des Marais salants
Place Adèle Pichon - 44740 Batz-sur-Mer France
Le Musée des marais salants vous convie à voir ou revoir Bretonnes, exposition photographique de l'artiste Charles Fréger, fruit d'une résidence au Centre d'art GwinZegal de Guingamp. Cette présentation de 43 portraits accorde une place de choix à la série guérandaise des métayères et paludières.
Exclusivement féminine, Bretonnes se découvre comme un inventaire poétique, une enquête sensible conduite auprès de tous les cercles celtiques de Bretagne. L'artiste explore avec délicatesse et élégance l'univers du costume traditionnel breton à travers le prisme d'un des éléments iconographique et identitaire les plus forts : la coiffe.
Loin de constituer une évocation nostalgique de traditions pluriséculaires, la photographie de Charles Fréger témoigne d'une culture régionale contemporaine et vivante. Mieux, plaçant la femme bretonne en figure de proue de ses images, l'artiste suggère la fierté qu'elle a de son histoire pour se tourner résolument vers l'avenir.
News
12 June 2018
Temporary exhibition, from July 7th 2018 to August 2019.
We are surrounded by natural forces and divinities. In Japanese masked rituals, costumes are worn to transform the wearer into a god, demon or animal. The exhibition creates links between the contemporary photographs of Charles Fréger, which depict a large number of ritual masked figures, and the museum's Japanese collections.
19 March 2018
IMPORTANT
SI VOUS HABITEZ A PROXIMITÉ DE LYON
———————————————————————————
JE RECHERCHE DES MODÈLES POUR UN PROJET PHOTOGRAPHIQUE À LYON, EN MAI/JUIN 2018. La date de prise de vue n'est pas encore définie mais il nous faut assez rapidement organiser un "casting". Nous recherchons 20 modèles de 18 à 35 ans, hommes et femmes.
La prise de vue implique une préparation maquillage et costume.
Pour plus de détails, merci de me contacter par email: info@charlesfreger.com
MERCI DE FAIRE CIRCULER
New video